Archive for the 'products' Category
I am very meticulous when it comes to good grooming and dressing up properly. Hubby and I are both front liners since we are musicians performing live on stage. All eyes are on us and people are watching our every move. Not only our moves but also on the way we dress and the way we carry ourselves. Thus, good grooming is a must for us.Whenever I see my hubby's mustache and beard that's already growing, I always tell him to shave it immediately.
I myself are shaving my underarms because I find it shameful on my part when people will see that horrible hair growing in my armpit area. Needless to say, shaving has a great many advantages over all the other methods of hair removal, which make it so commonly and routinely practiced. I find shaving as one of the fastest methods of removing hair anywhere on your body. All you need to do is to wet the hairy part, apply some shaving cream and start shaving with your razor.
With the recent popularity of good grooming for men and women, we've been presented with numerous shaving products. It makes a big difference because it helps in protecting your skin where you will have less razor burn, razor bumps and ingrown hair. Finding the best shaver also depends on your personal shaving style. My hubby has a sensitive skin so he is using a double edge safety razor.
Having the best razor is essential if you want to have a close and clean shave. Just like picking the right shaving cream, having a new and sharp shaving razor will help you get a close shave. Finding the right shaving cream is essential to a perfect shave. Always remember to pick a shaving cream that is designed for your skin type. If you are not sure about what skin type you have then opt for a sensitive or natural shaving cream to be on the safe side. Also take into consideration your shaving style. Investing a bit in grooming is well worth your time because looking good can do a lot in boosting your self- esteem and confidence.
Disclaimer:
This is a sponsored post however, all the points, opinions and views are my own.
Business owners are doing their best in order to market their business products and services. One of the popular option for promoting an offer is through an email marketing. I find buying an email mailing list a quick and effective way to build your database of potential customers.Businesses use these lists to announce special deals or to promote their products and services. Many small businesses nowadays grow their own email address list by offering something for free in return for a visitor's email address. They know the benefits of having an email lists because it helps in building customer relationships.
When you have your list to get in touch with, they will gave you the opportunity to send them offers or any form of newsletters from what they signed up for. Once you've built a relationship with your customer, you can easily convert them to buyers. Every visitor in your website is a potential buyer and the benefits of email marketing is that you can convert them to actual customers that will make the purchase.
And best of all, it will help improve your sales because you can see the improvement on your sales once you start sending out your emails and constant follow ups as your subscribers will eventually respond and take action. You see, simple emails can bring in great amounts of money once you have your list.
Cheap Louis Vuitton handbags are the good choice to high cost fashionable handbags currently sold in the marketplace. These handbags might even be best friend of any woman after that the costly diamonds, as this fashion accessory is certain to be originating inside their secretive and written at the peak of their lists of wish. The entire female who distinguishes the significance of objective petition is certain to concur that the handbag finishes the on the whole appearance of any attire.
Furthermore, a Louis Vuitton Damier Azur Canvas handbag is bought not simply for its visual appeal but even for its utility. It is utilized to keep imperative things like the make-up, cell phones, fashion accessories, credit and identification cards, and the other imperative papers that can be required throughout the whole day. Purchasing the costly yet top class stylish handbag is surely a superior choice particularly for those persons who are earning a lot of and so can indulge in modest luxuries like these.
On the other hand, not each female has a massive savings or is earning in excess of the average person. For the most practical yet stylish female, getting the stylish cheap designer handbags solves this major difficulty. These stylish handbags are not as luxuriously charged as the genuine bags, yet they are manufactured from top quality fabrics and shaped in the careful manner therefore as to build them long lasting. Along with the Louis Vuitton Damier Azur Canvas handbags you are confident of getting superior class fashionable handbags at the much lesser price.
This is not to articulate though that the entire cheap designer handbags are cheaply charged like the feebly manufactured reproductions which you often meet in mass shaped merchandise shopping stores. You can easily purchase the Louis Vuitton Damier Azur Canvas handbags from the online or nearby shopping store at your home.
My daughter and I loves watching fairy movies and animation specially the charming and lovable Tinker Bell together with her Disney fairy friends. I have learned from watching Tinker Bell's movies that fairies are in charge of looking after their flower or plant keeping it strong and healthy by making sure it has plenty of sunshine and water to drink. In short, they are helping the flowers and trees in the garden look lovely and beautiful.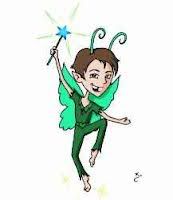 Now in the world of blogosphere, I have heard about the Fairy Hobmother who is spreading joy and happiness to all the bloggers. He sprinkles some pixie dusts and showers a surprise gift that certainly gives joy to bloggers like us. He is also spreading his fairy overloads about his appliances online such as American Fridge Freezer, washing machines, tumble dryers, dish washing and so much more!
I am so thankful that Fairy Hobmother finally landed on my blogs. Ive been stalking him ever since I heard about his generous spreading of pixie dusts in the blogosphere. I keep on hoping and believing that one day he will come to visit my blogs too. So, if you also want the Fairy Hobmother to visit your blogs, just leave a comment below and don't forget to follow him on Twitter. Who knows, you might be the next lucky recipient of his fairy gift.