Archive for the 'advice' Category
School is finally over so and its time for a summer vacation! Who doesn't love it? but what are you going to do? Well, go outside! Grab a friend or two and go hiking. Go to the beach, lake, ocean for swimming. Go jogging or even just for a walk in the park or on the side walk.
Go camping too! Gather some friends and go set up a tent somewhere. A yard, open field or a camp site are great places to set up a camp. Just make sure you have the necessary equipment. After all, camp is a great place to meet new friends. Plus, there are a lot of different camps out there to choose from.
Why don't you try to visit different places as well. You don't have to go anywhere exotic, just visit somewhere in your country, state, or even in your town. Go on a road trip with your family, or go with a few friends to a local place you've never been to before.  Now you have some ideas what to do and how to make the most of your summer vacation. Pretty cool, right?
1. Take Your Digital Camera Everywhere
Carrying your digital camera everywhere you go is easier than ever. Nearly everyone has a digital camera, and their small size makes them extremely convenient to carry. In addition, the ubiquitous cell phone tends to have a digital camera as one of its accessories. That makes taking photos on the fly even easier.
2. There's No Such Thing As A Bad Photo
That picture you deleted today because you were having a bad hair day or your eyes were closed might actually look better to you 10 years from now. Don't discount the value of photographs just because someone is making a face or gets caught with their mouth open. You will find that the passage of time makes these imperfect photos even more charming than the ones that are perfectly posed.
3. Create Personalized Photo Albums
If you have spent decades creating the perfect family photo album, you will have difficulty passing those photos down to your children when they become adults and leave home. If you create individual albums, in addition to your family album, you can highlight each child's birthdays and accomplishments in a separate book. When your children get married or have children, you can give their individual albums to them as a gift. That way they can carry on the tradition.
4. Family Scrapbooks Can Contain More Than Photographs
You can include certificates of accomplishment, movie theater stubs, concert tickets, report cards, and any other paper ephemera that makes your scrapbook special. Don't forget to use scrapbooking paper and stickers to make your pictures really stand out and make every page fun.
5. Include Older Photos In Your Family Scrapbook
Old black and white photographs, faded Polaroid pictures from the 1970s and 1980s, strips of photos from photo booths can all be included in your family scrapbook. If you have great old pictures of your parents, aunts and uncles, feel free to sprinkle them among the newer pictures on the pages of your family scrapbook.
6. Don't Be Afraid To Use Photoshop
You don't have to airbrush your thighs like they do to the models on the covers of fashion magazines, but you can use software to make an ex-husband or old boyfriend disappear if necessary. Although it's perfectly acceptable for some people to leave in photos of their prom date, other people want to eliminate all traces of their exes from their lives. Whether it's your ex-boyfriend, or your daughter's former best friend, if the ghost of an old relationship is haunting an otherwise perfect photograph, feel free to erase them from the picture.
James can usually be found blogging and hanging around on social media, but occasionally he'll help out with the toner at work, where he deals with things like the Samsung toner supplies in the warehouse.
It is a mandatory act that all motorcycle drivers and their passengers must wear helmets at all time and those who will not follow will be impose on stiff penalties for a violation of the law.It is aimed to protect motorcycle drivers and back riders from injuries and death in accidents.
I am definitely in favor of wearing a motorcycle helmet since I have seen several horrible motorcycle accidents here in our place and its very alarming already because of the rapid increase of injuries and death in driving a motorcycle. Head injury is a leading cause of death in a motorcycle accident and it has been shown that motorcycle helmets provide the best protection from head injury.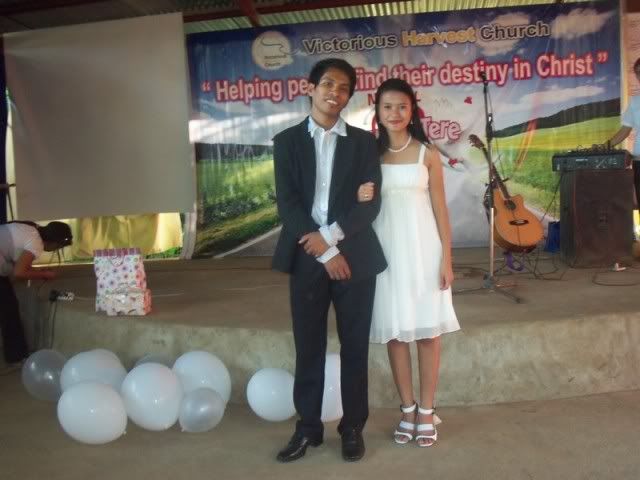 This young couple just got married a week ago and I was able to witness their unity of love as it was held at our church. It is a very simple wedding because it doesn't have any secondary sponsors like bridesmaids, groomsmen, flower girls etc. The brides dress was borrowed and their cake and foods was even donated by us. The wedding ceremony already started when I arrived at the church. I only saw their immediate family and some of our church members. 
It was really simple but I was deeply touched by the ceremony specially when the Pastor tried to explain what marriage life is, how to deal with marriage problems and how to make the relationship last forever.Unlike any other traditional marriage ceremonies where the priest will just read what is written on the wedding book guide. The Pastor gave them a personal advice since both of them are still young.
Being a Christian, I do believe that wedding vows are a testimony before your friends and family and before God that you love your partner and you have chosen him or her for eternity despite all the obstacles the marriage and life will present.